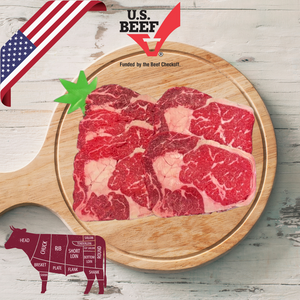 牛リブロース(リブアイ)焼肉用スライス3mm アメリカ産(トウモロコシ肥育)
ELP (Everyday Low Price)
$21.00 (300g)

$35.00 (500g)
Both flavorsome and tender. The cut has a buttery and deep-rich meat flavour as well. Very popular cut for use as the main steak in a steakhouse. Recommended cooking medium rare.
Frozen, vacuumed in a plastic bag with a tray.
If you like to order different weight of same product, please add to cart with the desired grams again.
Product image for illustration purposes only. Actual product may vary.