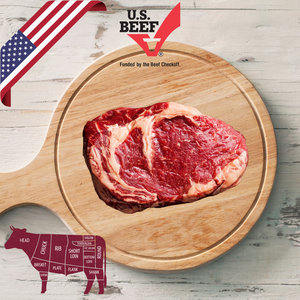 牛リブロース(リブアイ)空輸チルド アメリカ産(トウモロコシ肥育)
ELP (Everyday Low Price)

$20.40 (300g)

$34.00 (500g)
Both flavorsome and tender. The cut has a buttery and deep-rich meat flavour as well. Very popular cut for use as the main steak in a steakhouse. Recommended cooking medium rare.


Chilled, vacuumed in a plastic bag with a tray.

Styrofoam box & ice gel pack will be provided.

*3 DAYS EXPIRY IN UNPACKED AND CHILLED CONDITION
TIPS FOR STORAGE:
1. All chilled items you purchase can be kept in your chiller for three (3) days from the date of delivery.
2. If you want to secure longer shelf life on those chilled items you purchase, you can directly store them in your freezer within three (3) days from the date of delivery.

ANZU MEAT FACTORY produces our chilled meat items directly from chilled raw material.
You may keep the meat items in your freezer for two (2) weeks while the items can be stored in frozen up to maximum one (1) month.
For your best experience to enjoy the meat, just one (1) day before usage or cooking, you can take out the frozen meat from your freezer and put them in your chiller to thaw.
If you like to order different weight of same product, please add to cart with the desired grams again.
Product image for illustration purposes only. Actual product may vary.